NISSIN Original Production Line Systems
The production line system offered by NISSIN supplies technical know-how which have cultivated as a precision parts manufacture like, design approach only for you, NISSIN unique software for machine control and well-maintained quality control systems.
Forging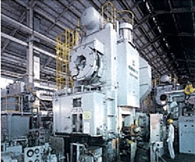 Forging means a manufacturing process involving the shaping of metal using localized
compressive forces. They are roughly devided into 2 types, hot forging and cold forging.
The photo is forging press machine for hot forging.
Aluminum Die Casting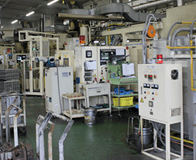 Aluminum die casting means casting a mold. Aluminum is poured bronze into a cast.
NISSIN is able to offer competitive quality to the world through making complex parts
centering on aluminum with multi-kind small-lot production.
Machining, Finishing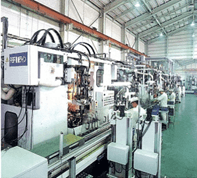 We are specialist of processing of different shaped small parts.
Since our establishment, NISSIN promote high-efficiency of line for general-purpose for construction of mass-production line with our know-how cultivated by long-term experience through half a century and improvement for maximizing of existing machine. At the finishing stage before completion, we use the machines which is invented and manufactured by us and try to improve the accuracy.
We support you widely from full automation to manual operation.
Heat Treatment, Surface Treatment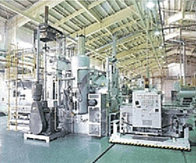 ・Heat Treatment
"Strengthening of control and monitoring" by automatization of machine
『Safety-First, Operator-Friendly and High-Quality』
Zero defect is ongoing in heat treatment process.
We realized in-house heat treatment which is so important as to affect the characteristics of metal
・Surface Treatment
Hard chromium plating and copper plateing of carbonizing prevention is available.
Quality Assurance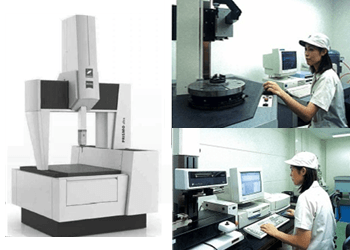 Quality over Quantity for QA!!

We have best quality system with the motto "Build in quality at the production process." Inspection based on your quality of course, we check your components rigorously with the latest inspection machine like three-dimensional measuring instrument or ultrasonic test instrument.
Prototype
Please Contact Us
for technical information
| | |
| --- | --- |
| TEL | +81-772-62-7007 |
| FAX | +81-772-62-7068 |
| Department in Charge | Sales Department for Parts Manufacturing |
Contact Us