NISSIN contributes "Performance improvement and quality improvement" for various precision.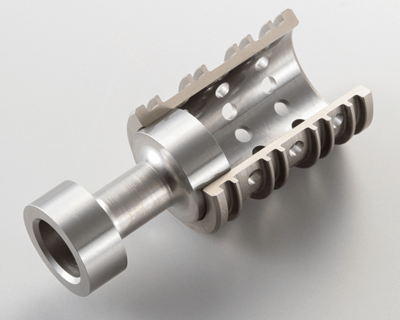 NISSIN provides from wide range of machining to finishing like machining centers, wire electric discharge machining and abrasive machining for precision parts, and deformed material machining for aluminum die casting. Industrial sewing machine parts is required high-accuracy for operating sewing machine smoothly and accurately. NISSIN provides even complex-shaped parts with submicron accuracy and also parts which requires high-durability and high-strength for wide-variety small-lot production.
Precision Parts

Provide Continuous Process from Lathe Machining to Grinding Machining and Assembly.
Provide High-Precision Cylindrical Grinding Machining in a Micron ~ Sub-Micron Unit.
Provide Stable High-Precision Internal Grinding. (Flange / Sleeve etc.)
Provide Stable High-Precision Close-Fitting Products by Matching Honing.

Pneumatic-Hydraulic Control Parts

High-Precision Control Products Using Fluid as a Transmission Medium of Energy
Industrial Sewing Machine Products

Accumulate Original Know-How with In-House Machine
Provide Submicron Accuracy but Complex-Shaped Parts
Provide Wide-Variety Small-Lot Production of Complex Products Focuses on Alloy Steel and Aluminum

Looper

Products which is exclusive part of the sewing machine and sew while making a ring with bobbin thread and knitting.
Please Contact Us
for Products
| | |
| --- | --- |
| TEL | +81-772-62-7007 |
| Department in Charge | Sales Department for Parts Manufacturing |
E-mail